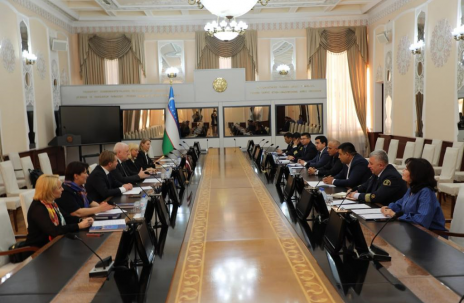 English
"Uzbekistan Railways wishes to make use of SJSC Latvijas Dzelzceļš (LDz) successful experience in reorganization of the company's structure in order to become a modern and efficient railway company based on Latvia's example," Husnutdin Hasilov, head of Uzbekistan Railways, said during a meeting with LDz Board Chairman Māris Kleinbergs.
Heads of the two railway companies met during a visit of LDz representatives to Uzbekistan this week. According to a memorandum of understanding signed by LDz and Uzbekistan Railways earlier this year, the companies agreed to set up a cross-sectoral task force that will ensure experience exchange and provide advice on reforming Uzbekistan's railway industry.
"Recently we have significantly expanded cooperation with Uzbekistan Railways - in the first nine months of the year, the volume of freight transportation between our countries has doubled. During the meeting with the management of Uzbekistan Railways, we agreed that there are a number of prerequisites for further development of cooperation – exchange of experience regarding what has been done in reorganization of our company and improving its efficiency is just one of the areas," emphasizes Māris Kleinbergs.
Companies of LDz Group, SJSC Latvijas Dzelzceļš, DZ CARGO Ltd., LDZ Ritošā Sastāva Serviss Ltd. and LDZ Loģistika Ltd., together with the freeports of Riga and Ventspils and representatives of the ports' terminals participate, under the Latvian transport industry brand VIA LATVIA, in international transport and logistics exhibition TransLogistica Uzbekistan 2022 in Tashkent November 2 to 4. At the exhibition, Latvian transport companies meet with new potential customers and strengthen cooperation with their current partners. As part of the exhibition, a Latvia-Uzbekistan business forum will take place on November 3, during which LDz Group companies will present their services and opportunities for implementation of joint projects of the two countries.
TransLogistica Uzbekistan is an international specialized exhibition that brings together international market players and industry experts with the aim of developing logistics systems, transport infrastructure, IT technologies of transport and logistics, attracting investment and industry growth, promoting cargo transportation volumes throughout Central Asia. This year, the exhibition takes place for the 18th time and is attended by participants from 12 countries.